BannersUI Enables DAM Users to Automate the Tedious Task of Rendering Banner Ads for Popular Platforms Including Facebook, Instagram and Google Ads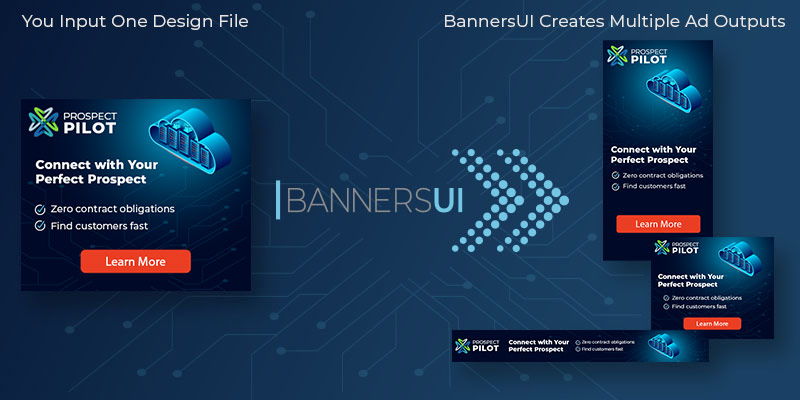 Santa Cruz Software today announced the launch of BannersUI, an innovative and efficient ad design automation platform for customers of digital asset management systems (DAMs). BannersUI is available for pre-release embedded integration into DAMs, and it will enable designers to design banners ads and other digital outputs for various sizes with a few clicks. This eliminates hours spent resizing and redesigning graphics for different platforms or formats, allowing designers to focus more time on high-value, creative projects. 
BannersUI benefits DAMs by increasing usage throughout each business customer. Non-designers, such as members of the marketing team, benefit significantly by accessing various ads within the DAM, enabling them to make modifications as needed. This integration also enhances the overall utility for the design team, strengthening the relationship between DAMs and graphics teams. As a result, DAMs are each likely to expand user seats as customers bring in additional team members, including those who are not primarily involved in design activities.
BannersUI empowers designers to create only one design and then render a package of artboards for a campaign, reducing the time spent resizing for various banner ad sizes and other output dimensions. By deconstructing common design file formats like Adobe Photoshop, Illustrator or InDesign, BannersUI will utilize AI to analyze objects and then resize and reposition those objects, such as the logo, background image or call-to-action text. The resulting artboard outputs are optimized for various dimensions, including those suitable for popular platforms like Facebook, Instagram and Google Ads, and can be exported in common file types such as jpg or png. BannersUI also supports custom banner dimensions to meet unique requirements.
BannersUI addresses the needs of designers as 85% are frustrated with the repetitive resizing process, according to a recent survey. The survey further reveals that 76% spend at least 20 hours per week resizing and over half (52%) spend at least 30 hours. Additionally, 96% said a responsive design tool would be helpful, and 75% express that it would significantly impact their work. 
"BannersUI sets itself apart by seamlessly integrating with DAMs, ensuring that DAM users have quick access to various ad sizes to do their jobs," said Mark Hilton, CEO of Santa Cruz Software. "If a designer needs to create a flyer, an email graphic and a dozen banner ads for a single campaign, BannersUI empowers them to use a single design file resized automatically for various outputs. Our platform lets designers and marketers streamline their workflow and radically boost productivity."
The system will utilize AI to determine the layout of various objects, leveraging thousands of data points from existing banner ad designs. As users tweak ad renderings in BannersUI, the AI then personalizes future ad renderings based on each user's historical layout preferences.
Initially, BannersUI is available only for pre-release integration with DAM partners. Availability for individual customers will begin in 2024.