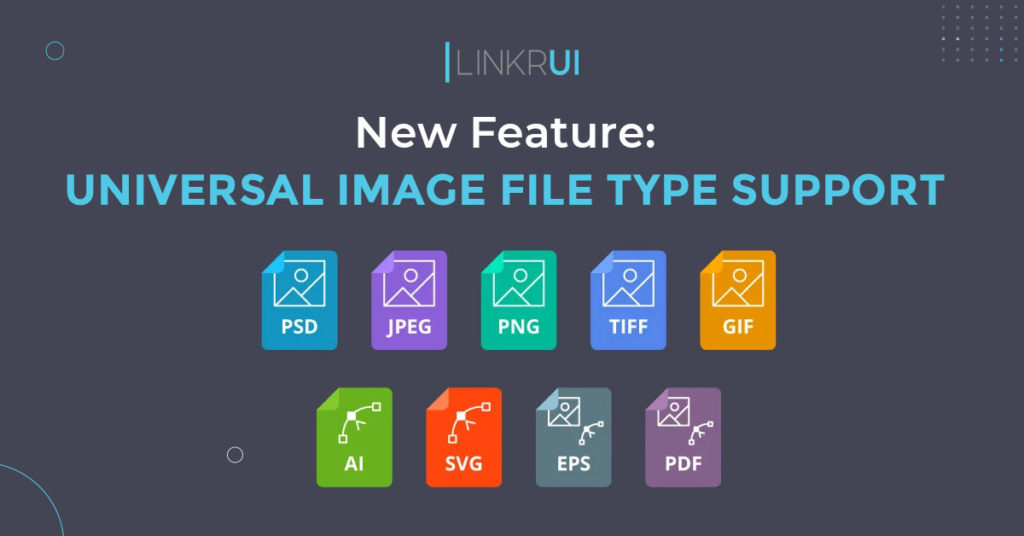 LinkrUI, the leading DAM connector for Adobe and Microsoft applications, has just released an exciting new feature to simplify users workflow when working with non-supported image file types. Universal Image Filetype Support allows for on-the-fly conversion of non-supported image file types to a supported file type for seamless file placement across Adobe and Microsoft applications.
In some situations, users who try to place an image may receive a notification that the file type is not supported, most often encountered by Windows users on Microsoft Office applications. Typically, files like Photoshop PSD files are not supported in MS Office applications like Microsoft Word or PowerPoint. This means that if you want to place a PSD file in a Word document, you have to manually convert it to a JPG or PNG first. With LinkrUI, this is no longer necessary. Once you select a PSD file and place it in your document, it will automatically be converted to a supported file format, based on your preferences for file format and resolution.
This automatic conversion feature is not limited to PSD files. Any non-supported file type, such as Illustrator, TIFF, EPS, or HEIC, will be automatically converted to a supported format. Additionally, if you're trying to place a file larger than what's supported by the Office app, LinkrUI will automatically convert it to the appropriate resolution based on your preferences.
This new feature is a game-changer for designers and other professionals who frequently work with image files in their day-to-day tasks. Instead of spending valuable time manually converting files to a supported format, they can now focus on their actual work. The automatic conversion also ensures that files are always placed in the correct format and resolution, avoiding potential issues with the final output.
LinkrUI's new Universal Image File Type Support is a powerful tool that will simplify the workflow for many DAM users. With its automatic conversion feature and customizable preferences, it will save time and increase efficiency for those who frequently work with image files. If you haven't already tried LinkrUI, this new feature alone is reason enough to give it a go. Learn more about LinkrUI here.