And I'm not referring specifically to the newest little baby boy Harbs… 😉
We delivered two major new features being the Image Gallery feature and Easy PrintUI. We are very pleased with how both have been received.
Placing images from social image sources such as Facebook, Flickr and Picasa is really great and we hope to work on building gallery connectors for some major DAM providers. We think this is big news for a lot of our clients.
Easy PrintUI has been received a lot of enthusiasm as well. We think it brings web-to-print capabilities to a lot of smaller companies who did not previously have the resources to consider classic web to print solutions (even hosted ones such as PrintUI). The almost zero setup required and the robust management tools makes it a really good fit for small to medium sized printers and design agencies. We are working on making it even better and we love to hear feedback on how you would like to use it!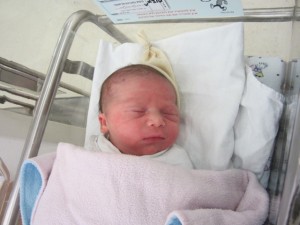 Graph Expo was a great venue as well and it was very productive presenting there.
Besides these major events, we added a number of smaller features to PrintUI:
Unlimited undo and redo support.
Full Screen Mode
Support for tabular data: All tab stops set in InDesign will now be fully honored. This allows for a higher level of formatting quality and is extremely useful for things like data sheets and list data.
Text frame fills and basic strokes set in InDesign are honored in the web app.
Text Frame Insets set in InDesign are honored as well. This allows for text content to have a background fill and stroke set a specific distance around it. The background box will automatically resize to fit the text.
Support for proportional and old-style numbers allows for a higher level of typographic quality.
Horizontal frame resizing is now more intelligent and expands based on the text alignment setting. For example: if the text is right aligned, the text area expands to the left.
Improved color swatch support. All color swatches defined in the InDesign document will now be available for selection in the web app. Additionally, the swatch names defined in InDesign will show in the color picker. Only templates uploaded using extension version 2.0.4 and on will support this feature.
Control over the colors which appear: There are now two new flashvars that can be used to specify colors that appear in the color picker. See the flashvar documentation for further details.
Additionally, we recommend that all clients download the latest version of our extension. Besides a number of bug fixes, the new extension is required for extended color swatch support.
Of course we are not resting on our laurels, and we're hard at work on exciting new developments! 🙂